Keynote Speaker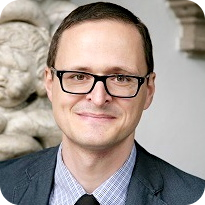 Markus Strohmaier
Titel: Ranking People
Abstract:
The popularity of search engines on the World Wide Web is a testament to the broad impact of the work done by the information retrieval community over the last decades. The advances achieved by this community have not only made the World Wide Web more accessible, they have also made it appealing to consider the application of ranking algorithms to other domains, beyond the ranking of documents. One of the most interesting examples is the domain of ranking people. In this talk, I will first highlight some of the many challenges that come with deploying ranking algorithms to individuals. I will then show how mechanisms that are perfectly fine to utilize when ranking documents can have undesired or even detrimental effects when ranking people. This talk intends to stimulate a discussion on the manifold, interdisciplinary challenges around the increasing adoption of ranking algorithms in computational social systems.
Short Bio:
Markus Strohmaier is the Professor for Methods and Theories of Computational Social Sciences and Humanities at RWTH Aachen University (Germany), and the Scientific Coordinator for Digital Behavioral Data at GESIS - Leibniz Institute for the Social Sciences. Previously, he was a Post-Doc at the University of Toronto (Canada), an Assistant Professor at Graz University of Technology (Austria), a visiting scientist at (XEROX) Parc (USA), a Visiting Assistant Professor at Stanford University (USA) and the founder and scientific director of the department for Computational Social Science at GESIS (Germany). He is interested in applying and developing computational techniques to research challenges on the intersection between computer science and the social sciences / humanities.