On behalf of the Organizing Committee for the 41st European Conference on Information Retrieval (ECIR 2019) we invite you to participate in the conference as a supporter or exhibitor. The ECIR conference spans both academia and industry: As a top-tier international conference affiliated with the BCS / BCS IRSG, ECIR aims to support communication between researchers and practitioners by promoting the use of IR methods in industry and raising public awareness.
Acknowledged as the premier European gathering place for current and future IR leaders and innovators to discuss and present the state of the art in connecting people with information, ECIR sponsors highly contribute to the success of the conference and gain great visibility for their companies. All supporters will receive a set of standard benefits as outlined below, with additional benefits for each level summarized in the following description.
Standard benefits for all supporters
• Recognition as a supporter, with organization logo, in the conference program and on the conference website
• Recognition as a supporter on the official acknowledgement board onsite at the Conference
• Use of the Conference logo until the end of April 2019
Sponsorship packages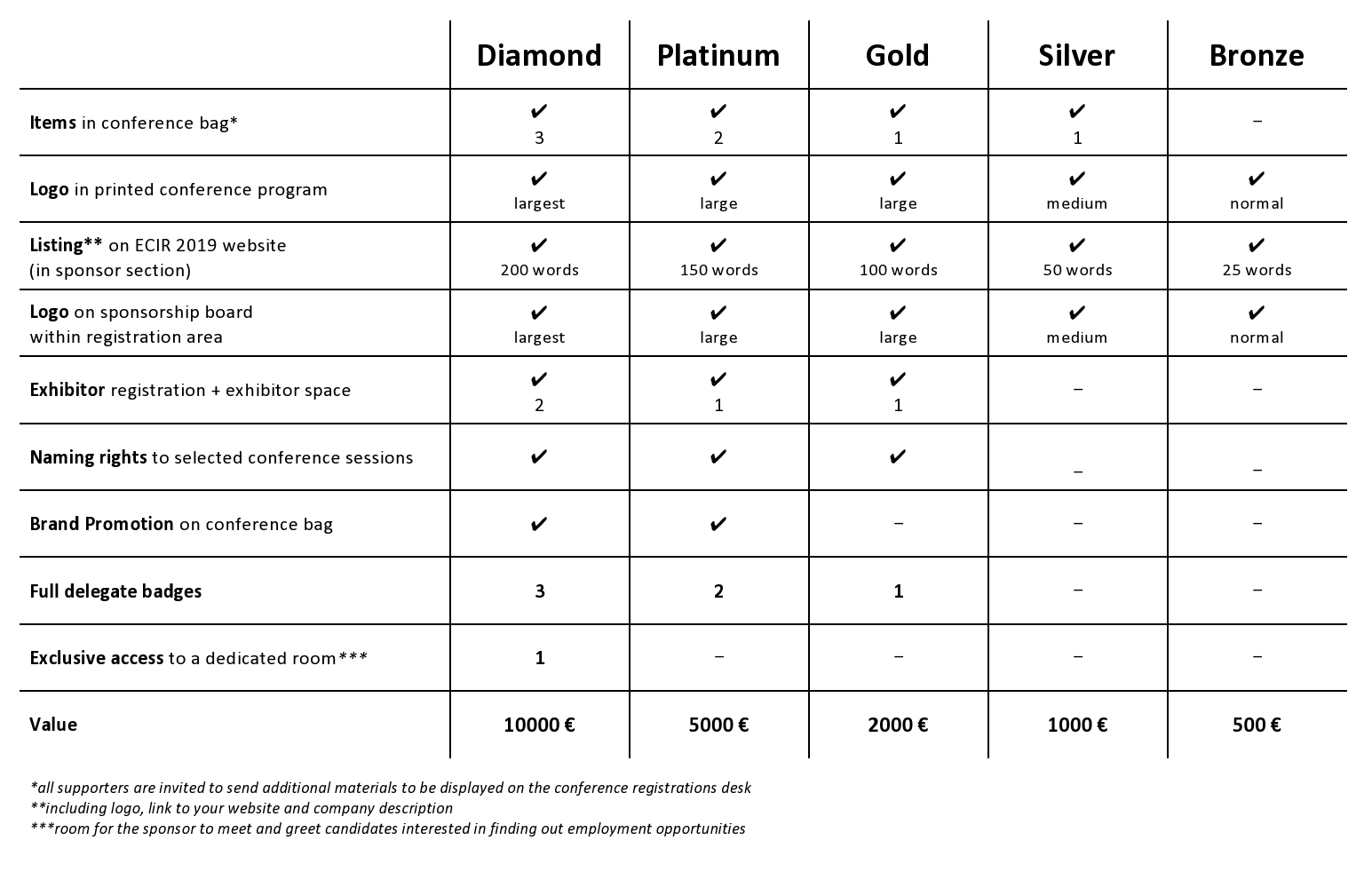 In-kind sponsorships that directly cover the costs of the conference are also welcome. These could be student travel scholarships, support for travel expenses of doctoral consortium students or best paper awards sponsorships. In these cases, the sponsor name is prominently acknowledged in connection to the sponsored activity.
The conference organizers are also happy to tailor alternative opportunities to suit your needs. To maximize your options and publicity exposure, please confirm your participation by the earliest date possible.
We look forward to seeing you in Cologne, Germany in April 2019!
Sponsorship Co-Chairs
Jochen L. Leidner & Karam Abdulahhad (sponsors@ecir2019.org)